How Wallworks uses a Partnering Spirit to improve manpower efficiency – saving construction managers and end users time and money
As one of the largest trades on a project, carpentry can have a big impact on costs. Understanding the drivers of project costs – especially where these costs can overrun the budget is important. Wallworks Commercial Carpentry looks at 3 ways to improve job-site productivity and to control cost overruns, schedule delays and re-work:
Using technology to enhance productivity
Using top-down sequencing to eliminate work interference
Engaging the Field Ops team to reduce the impact of rework
Leading the way – using laser technology to set the stage for a high-quality project
We understand that carpentry is one of the leading trades on a project and our level of accuracy sets the stage for a high-quality project, providing a cascading effect on quality. A simple error early in a project can have a compounding impact. Since walls are commonly dimensioned from previous measurements a marking error on one wall layout, carried forward to the next can compound the error over a distance. This error can have an impact on other trades if not corrected quickly. With Laser Technology, human calculations are not required and reading errors are reduced. This is especially valuable for complicated design elements such as circles, arcs, and complex soffits.
To ensure a high-quality start, Wallworks has invested in the most-advanced technology that expedites traditional manual layout processes such as leveling, aligning, plumbing and squaring.
Wallworks' use of laser technology provides key competitive advantages to our customers – resulting from increased productivity and improved quality.
Speed: a laser-enabled process is faster than traditional layout methods
Manpower: ease of setup and one-person operation allows for efficient allocation of labor
Cost-savings: lasers dramatically reduce mistakes and the need for costly rework and downtime
Scheduling: enhanced trade coordination supports pull-planning and better scheduling
Quality: complicated shapes, arcs and curves are now easy to layout, reducing re-work
"This technology has reduced the frequency of rework…for us and our customers there is a direct benefit in the cost of the mistakes you don't make", says Steve Welte, President of Wallworks.
Using Top down sequencing as a best practice to eliminate trade interference
There is nothing more important to the construction productivity that how work is sequenced, scheduled and coordinated. For the Carpentry Trades this is especially true – especially when it comes to 'topping out' construction.
Top-down sequencing, also known as 'pre-rock', 'top-down' or 'topping-out' construction is recognized throughout the construction industry as a best practice that saves time and accelerates schedules. So, when this work is out-of-sequence it can have an enormous impact on productivity – negatively affecting schedules and costs.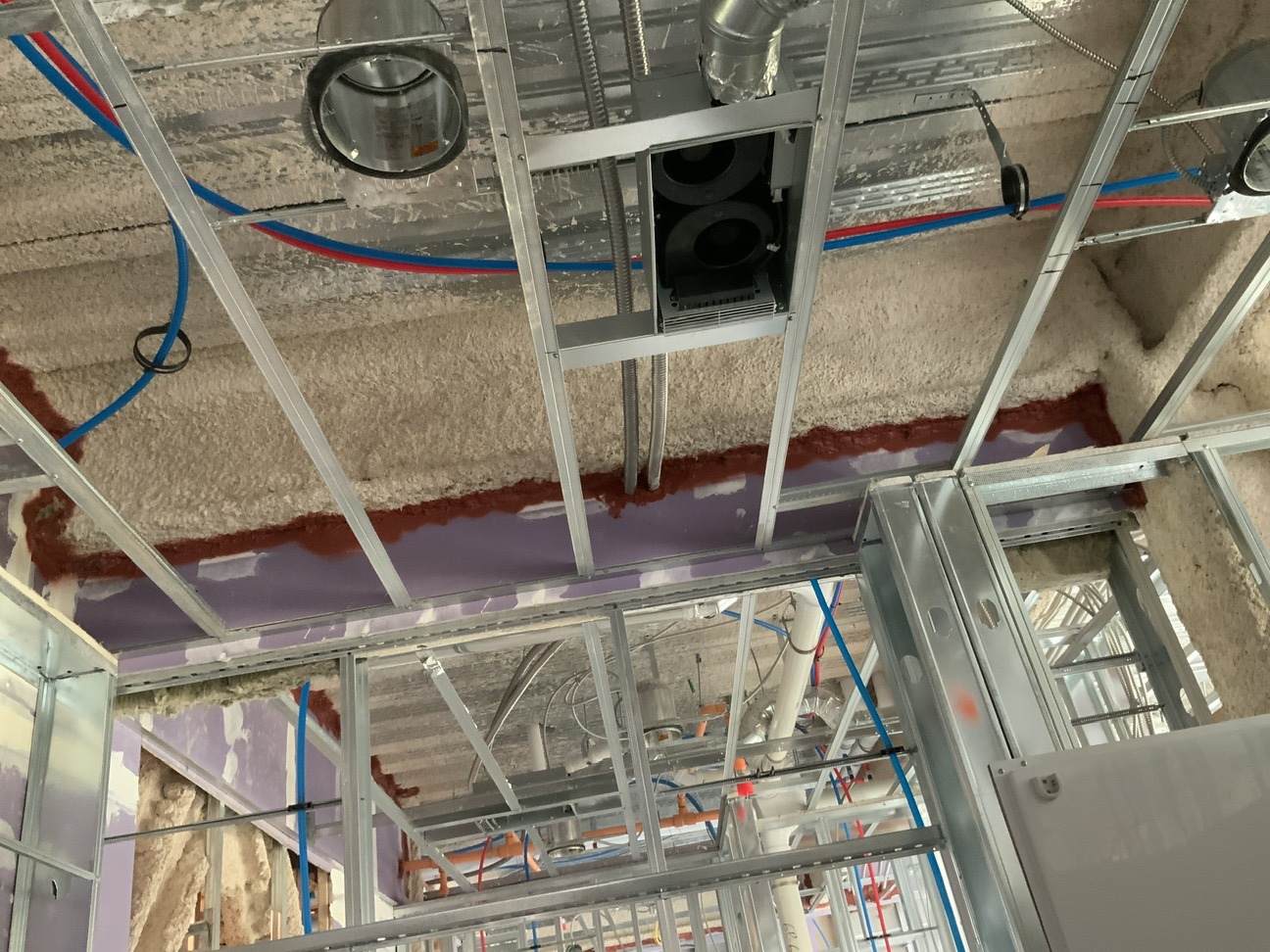 Best practices call for primary corridor or interference walls to be installed before any of the MEP work such as HVAC ducts, main electrical conduits, plumbing, and fire suppression piping. Also, secondary or partition walls that are full height, extending to the underside of the structure, and are in conflict with MEP, should also be installed prior to MEP. 
When this work gets out of sequence, and MEP work interferes with wall framing, drywall installations or finishing, it is especially harmful to the planned productivity of the carpentry trades.
"One way to solve coordination problems between MEP and drywall work is to identify priority walls that should be framed and topped down prior to installation of MEP work." Says Justin Henzel, VP of Operations for Wallworks. "This is critically important because this work can account for as much as 60% of the manpower on a project."
On many projects MEP contractors are made up of at least three separate subcontractors: a mechanical sub, an electrical sub and a plumbing sub. These separate subcontractors may even subcontract out certain parts of their work to other subcontractors. "We may be working with five or six different people from five or six different subcontracting firms, so this is where good coordination and good field operations comes into play" says Justin.
"When it comes to determining priority-wall status each trade is going to have a different opinion, we recognize that some specialty contractors would like to go in first because their productivity decreases when they must work around drywall", says Justin. "This is where we rely on our field ops team to collaborate with other trades, ensure that our crews can be as productive as possible and eliminate as much re-work as possible."
This type of collaboration and work structuring – not only within the carpentry trades but across the MEP and FP trades can have a major impact on production performance because of the interdependence of the trade work. Identifying and encouraging these coordination efforts will greatly improve the chance for a successful project. This not only saves construction time; it also ensures a better quality and compliant drywall installation.
Engaging the Field Ops team to reduce the impact of rework
Rework can consume up to 30% of the productivity on a project at a cost of 10% or more of the contract value. For the Carpentry Trades the additional time needed to correct or redo finish work can spike labor costs by as much as 7% or more according to numerous Construction Industry productivity studies. Other Industry studies placed the total cost of rework––including both the direct and indirect factors combined––at more than 9% of the total project cost.
No other trade is impacted by rework more than the carpentry trades. With so much at stake, Wallworks has developed a QA/QC focus that integrates the key members of their Team:
Training and continued development of craft skills
Project Management of cost and schedule
Field Operations and site coordination
When the PM, Field Ops and craft workers are aligned, the work has the best chance to get done correctly the first time or to identify a problem if they see one and to resolve it quickly. This quick correction prevents the mistake from being duplicated throughout the construction.
"Because we maintain our own PM, field ops and craftsmen we have the advantage of a shared interest in our success. We know we succeed or fail together", explains Steve Welte.
But on a construction site, with multiple trades working towards completion, rework is often caused by other trades. Here is where a strong Carpentry Field Ops Team comes into play – ensuring coordination and communication between the carpentry and other trades.  To reduce rework The Wallworks team looks for the following indicators of potential rework:
Out of sequence activities or not well-planned activities. An example would be MEP trades who are under pressure to complete their work and create unplanned cuts in finished drywall.
Changes that were not clearly communicated to all the trades. Design plans change, and often these changes affect work in progress, requiring rework. Here is where Field Ops has to watch the schedule carefully and move quickly to get ahead of the causes of rework as soon as possible.
Wallworks' trains their team to identify areas where rework is often occurs and to craft a backup plan to adjust the schedule of work to minimize the effect it has on manpower and time.
By incorporating technology, best practices and collaboration on construction projects, Teams can improve manpower efficiency to improve quality, reduce schedule delays and save costs. The use of new tech, good project management and strong field operations has become essential to success at Wallworks. 
These practices underscore the principles of a Partnering Spirit and reinforce Wallworks' commitment to their customers and their employees to bring superior craftsmanship, speed and innovation to every project and every customer.