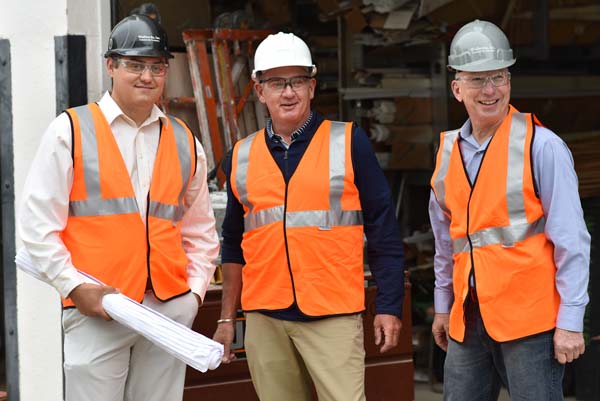 Damon & I want to take this opportunity to let all of you know how much your hard work, determination and commitment to excellence has meant to us on this most recent remodel in Kidder, PA. Your corroboration & cooperation with other subs, willingness to put in unusually grueling work hours, and attention to detail has made a huge impression on Wawa's corporate offices. As has become our usual, it was very apparent to Wawa that the punch items on the final list were so minor compared to what they expected – and in fact, were only one partial page for ZBI and our subs. That alone was a major factor in the store opening within the time limits set by Wawa. The excellent professional finish on the inside AND the outside of the store did not go unnoticed by the Wawa executives. We received high praise directly from Corporate for the quality of your workmanship. We were told that this commendation was not given lightly.
Thanks again for all your hard work. It has been a pleasure working with all of you on this project, and we look forward to many more.
Damon J. Zarzycki
Gary E. Zarzycki
Zarzycki Builders Inc.
I have worked with Wallworks on multiple projects and I highly recommend them. On every project there is a spirit of cooperation, problem solving and partnering. On a recent project, Wallworks successfully took on a difficult rainscreen system that other contractors were unable to handle. Through a collaborate effort with CVMNEXT, Wallworks established strategies for installation and constructability concepts that allowed them to accelerate their work so that the project could be completed on time.
Carrie Patel, Project Manager CVMNEXT Construction
We had a very aggressive schedule for the completion of the new FedEx facility and Wallworks stepped up and met the completion deadlines. As a Project Manager it is important to me that our subcontractors can properly man the project with the right amount and the right quality of tradesmen. Wallworks was able to bring the manpower we needed to meet the schedule and our expectations for quality work. The project also required significant coordination and the Wallworks' team was very proactive in coordinating their work with the other trades – this was very important to maintaining the schedule. I highly recommend Wallworks and would enjoy working with them on future projects.
Creighton Williams, Project Manager W&G Construction Company
We work hard to put the best teams together for our clients, and that includes having the best subcontractors and tradespeople on our projects. We expect more than just getting the job done on time and for a good price – we expect our Trade Partners to look out for us and our customers and to work in the best interest of the project. On the Hebrew Academy Project Wallworks achieved these expectations. The project included some complex geometry of the walls and ceilings and Wallworks sat down with us, the Architects at KSS and the Owner to work out the details. They were great at coming up with solutions to problems and communicating their ideas. The end product is of high quality and is something we can all be proud of. This was my first project with Wallworks and I look forward to working with them again.
Ed Shields, Contract Manager / Project Executive for IMC Construction