Responding to the demand for more senior housing, CA Senior Living, the senior living investment, development, and operating arm of CA Ventures recently completed Anthology at King of Prussia – one of the region's most high-profile, senior living projects. To ensure high quality and timely delivery, the Construction Manager, Wohlsen Construction turned to Wallworks Commercial Carpentry for completion of the Interior General Trades Package – a driving force behind the successful completion of the aggressive schedule.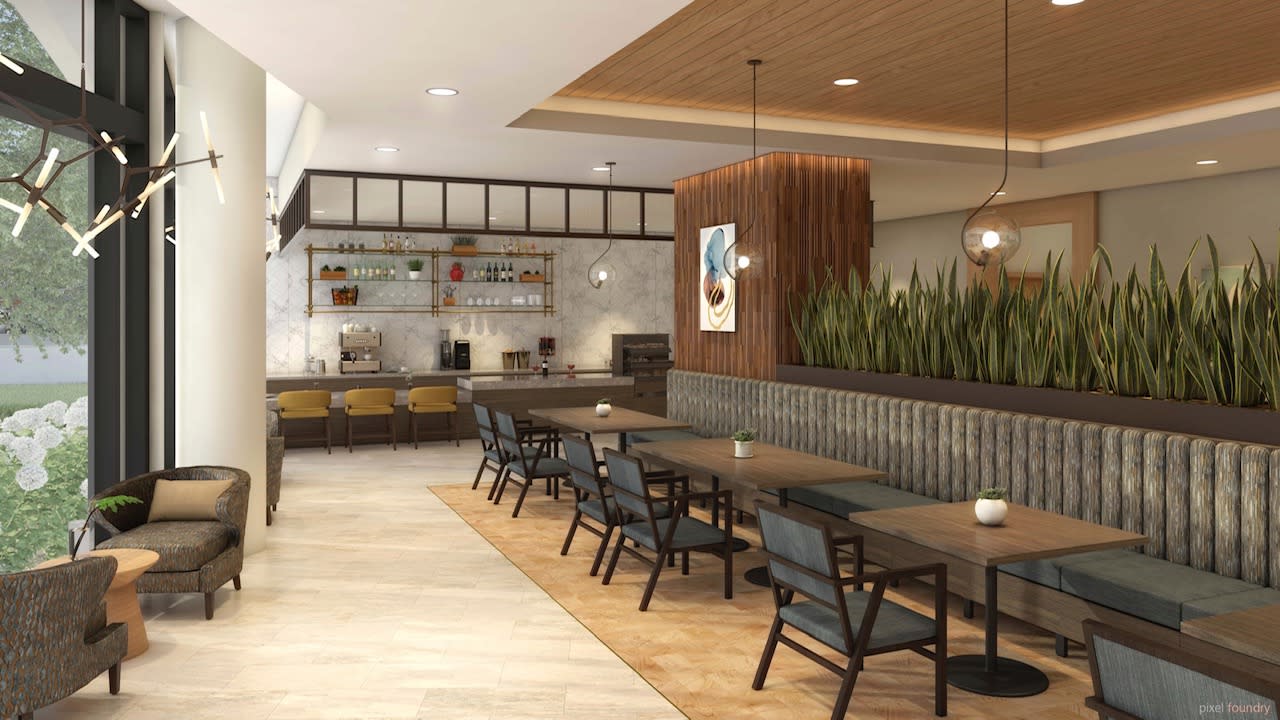 The Facility
The modern Senior Living facility was designed by world-renowned Perkins Eastman Architects and includes 9-foot ceilings and oversized windows. Residents enjoy over 20ksf of amenity space, and a sky-deck on the 11th floor. This includes numerous dining options, a theater with a high-definition projection screen, library and game rooms, and various activity rooms. Wellness amenities include a fitness center, indoor pool, physical therapy room and spa with salon services.
The Project
The 255,600-sf senior living project broke ground in 2019, and despite the complications of the 2020 global pandemic, it was completed within the aggressive 19-month schedule. The project included the construction of a new 11-story, 192-unit senior living facility with an integral 3-story, 144 car parking garage. The high-end interior finishes are similar to those found in luxury condominiums.
The Interiors General Trades Package
As one of the largest trades on the project, the carpentry work had a big impact on the project schedule. So, for the Anthology project, ensuring manpower was a driving force behind the schedule and quality. As the General Trades Contractor, the comprehensive scope of the work package allowed for better manpower coordination, phasing of work and for managing details that are important for quality.
A simple error early in a project can have a compounding impact on a project…since walls are commonly dimensioned from previous measurements, a marking error on one wall layout, carried forward to the next can compound the error over a distance. "This error can have an impact on other trades if not corrected quickly". Says Todd Shollenberger, Wallworks Project Manager. "With Laser Technology, human calculations aren't required, so reading errors are reduced. This is especially valuable for the complicated design elements designed into this project such as circles, arcs, and complex soffits."
To ensure a high-quality start, Wallworks used laser technology to expedite traditional manual layout processes such as leveling, aligning, plumbing, and squaring. This resulted in increased productivity and improved quality.
Reducing the impact of rework on the fast-track project
On any construction project, the additional time needed to correct or redo finish work can spike labor costs by as much as 7% or more according to numerous Construction Industry productivity studies – consuming up to 30% of productivity. On a fast-track project, few other trades are impacted by rework more than the carpentry trades. With so much at stake on the Anthology project, Wallworks developed a QA/QC focus that integrated the key members of their Team:
Craftsman: Training and continued development of craft skills
Project Management: Ongoing training of cost and scheduling best practices.
Field Operations: Customer, GC, field, and site coordination
With multiple trades working towards completion, rework was often caused by other trades. Here was where a strong Carpentry Field Ops Team came into play – ensuring coordination and communication between the carpentry and other trades. To reduce rework The Wallworks team focused on 2 key indicators of potential rework:
Out of sequence activities or not well-planned activities. An example would be MEP trades who are under pressure to complete their work and create unplanned cuts in finished drywall.
Changes that were not clearly communicated to all the trades. An example would be design plans change which could affect work in progress, requiring rework. Here is where Field Ops had to watch the schedule carefully and move quickly to get ahead of the causes of rework as soon as possible.

Summary
By ensuring manpower, incorporating technology, collaboration on the project, the team improved manpower efficiency, improved quality, reduce scheduled delays and saved costs. The use of new technology, good project management and strong field operations has become essential to success at Wallworks.